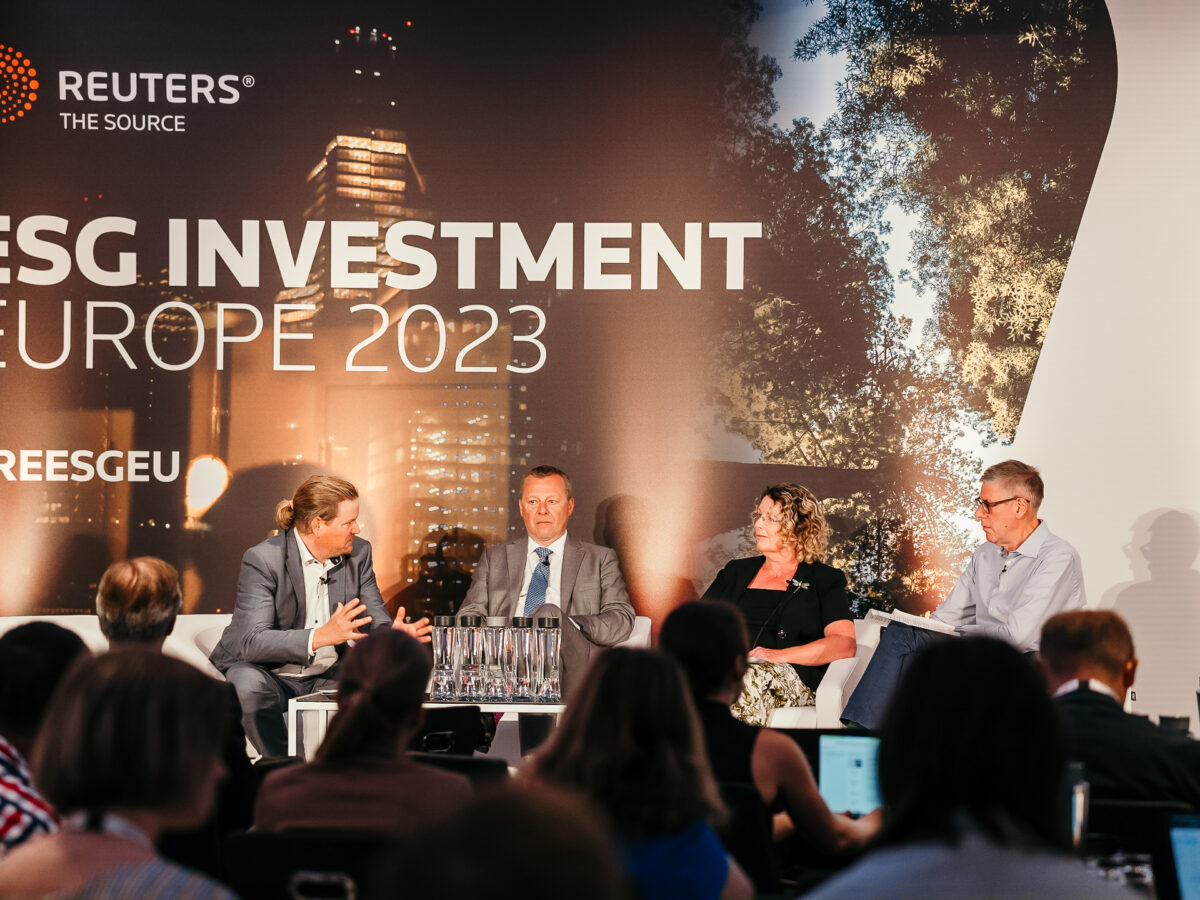 Our Co-Founder and CEO Ingmar Juergens at the Reuters ESG Investment event in London
September 7, 2023
On the 7th of September 2023, our Co-Founder and CEO Ingmar Juergens participated in 2 panels on the Reuters ESG Investment stage in London. Here are his key takeaways from the sessions:
Panel 1: "Beyond the ESG Patchwork – progress towards a global reporting baseline and guidance on optimising data comparability in the meantime
1. Political Courage: Policymakers must show the courage to adopt balanced proposals despite last-minute changes, political pressure, and the narrative that change isn't possible.
2. Honesty: Acknowledge climate change and focus on transparency before considering hardcore regulation, bans, or high environmental taxes.
3. Market Challenges: Despite a growing preference for mandatory ESG requirements, significant obstacles persist.
4. Business Case for Green Action: Demonstrating superiority requires transparency across the entire market and the establishment of benchmark standards.
5. CDP Report:  Acknowledgement of the CDP's excellent work and a call for action in biodiversity. See the report here.
6. ESG Progress: There are 72 stock exchanges with ESG guidance, and four jurisdictions (EU, Brazil, Indonesia, Singapore) show high-quality mandatory biodiversity disclosure.
7. Future Steps: Consider sectoral approaches, including biodiversity and supply chain disclosure.
8. Building on Existing Frameworks: Utilise lessons from the EU's non-financial reporting directive, EFRAG's structure, TNFD, and the market's 25 years of experience with GRI.
9. Biodiversity Reporting: Emphasise the importance of location-specific impact reporting and supply chain disclosure.
10. Pragmatic Solutions: Focus on developing and adopting mandatory disclosure regulations for key sectors in key countries, emphasising collaboration.
Panel 2:  "Investing in ecosystem restoration and resilience – from blue economy to sustainable agriculture (case study focus session)
In the world of ecosystem restoration and financial policy frameworks, several key points stand out. Globally, 72 stock exchanges have developed ESG guidance for issuers, yet disclosure requirements for plastics and biodiversity lag behind those for water and climate. Only Brazil, the EU, Indonesia, and Singapore demand high-quality biodiversity disclosure, indicating a need for increased mandatory reporting.
CDP collected biodiversity data from over 7,700 (out of 8,500+) firms in 2022 (87%), demonstrating a willingness to report on biodiversity. Additionally, the Taskforce on Nature-related Financial Disclosures (TNFD) is expected to release a framework, possibly influencing biodiversity disclosure regulations worldwide. For comparison, in 2021, 1,598 (12%) of companies disclosing through CDP were responding to all TCFD-aligned questions.
Moving to the business case, there's a focus on data and combating greenwashing. The UNEP land-use finance hub has created a list of positive impact indicators related to land use. At this point, Ingmar brought up the big data gap, highlighting challenges such as corporate response data, supply chain relationships, and location-specific asset-level data. While there are tools and methodologies available, methodological challenges still exist in translating global targets into company-specific KPIs. Some examples can be found here, and here.
Notably, only 40% of the world's 100 largest companies per country report on biodiversity, as per KPMG in 2022.
These insights underscore the evolving landscape of environmental reporting and the need for more comprehensive and standardised disclosures.